One of your most valuable assets is your employees. Whether you have one, 21, or 50, it's important to remember that they're people first, your employees second, and that you owe it to yourself, your company, and, most importantly, to them to check in, see how they're doing, and let them know you value them.
In a previous post, we talked about Employee Appreciation Day, which is the first Friday of March. But a once-a-year acknowledgement isn't enough. We recommend doing something special for your employees (and/or prized vendors) each quarter.
As we approach the mid-way point of second quarter, here are five employee morale boosters to consider.
1. Give 'em a fortune. A giant fortune cookie, that is. See, you're lucky to have these people as employees, right? Acknowledge how lucky you are by offering a fun and tasty bit of "luck" to them with a one-pound fortune cookie. You can customize the message — or fortune — that they find inside. Leave the cookies on their desks so that these giant treats greet them in the morning.
2. Host an ice cream social. This is especially fun as we head into the hot summer months. Turn your kitchen/cafeteria/conference room into a sundae bar. Get three large containers of ice cream (from a place like BJ's or Costco), sundae toppings, and plastic bowls. This is a fun and relatively inexpensive way to reward your whole team.
3. Provide free chair massages. Whether you invite a local massage therapist to come in on a Friday afternoon or you contract someone through an organization like Corporate Soul, offering your employees free chair massages is a nice way to boost their morale (while focusing on their physical well being too!). This is an especially good idea if you have lots of employees sitting at desks or in cubes.
4. Get out and about. Sometimes the best way to boost morale in the office is to GET OUT of the office. Take an afternoon off and bring your whole staff on a fun outing. It could be something as simple as a leisurely lunch at the local Chinese food buffet, an afternoon movie, or an afternoon at a local museum. More involved ideas include whale watches, day cruises, or heading to a comedy club one night.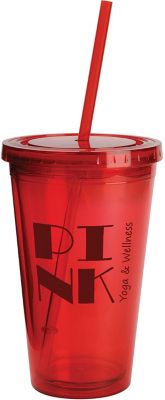 5. Give an occasional "just because" gift. Here's a fun example (one that also helps promote your company). Fill up some promotional Sunsplash tumblers (pictured) with fresh lemonade, iced tea, iced coffee, or slushies and hand them out to your employees. This makes for a perfect pick-me-up on a Friday afternoon. (You can do the same thing during colder months – just substitute personalized travel mugs and fill with hot tea, coffee, or cocoa.)
How do you celebrate your employees? Share your ideas in the comments.