According to the Enterprise Council on Small Business (ECSB), salons have been fairly recession proof, but that doesn't mean if you own one that you can afford to stop marketing. Need a boost to your marketing efforts as you head into fall? Here are three creative ideas.
1. Partner up. When it comes to salons, there are many complementary businesses. For example, wedding planners, dress shops, and limo companies are all businesses that could refer clients to you (and that you could refer business to). Create a network or even a "package" that you and your fellow business owners promote together. For example, maybe you create a "Wedding Banquet of Services" where you, the wedding planner, limo company, florist, and photographer all promote your combined services as a "package" deal. You could even create a micro-website for your wedding banquet of services and share the costs of web design, hosting, and other forms of advertising (e.g. a full-page ad in a bridal magazine is a lot more affordable when it's divided five ways). The ad would promote the micro-site, but from there, you'd all list your own individual services with links to your own individual sites.
Here's another idea when it comes to partnering up: share the cost of a trade booth at events like bridal expos. For example, the limo company could have the booth and the most signage (and pay the bulk of the costs), but someone from your salon could be there as an "added value" with free bridal makeup kits. You get the idea.
2. Offer a "Birthday Bash" Pamper Session. Everyone has a birthday, right? Make sure you get this info for new clients and then send them a birthday card on the first day of their birthday month with a special offer they can use anytime during their birthday month.
3. Think in terms of Discount Diva. The best way to keep your clients coming back is by booking them for their next appointment BEFORE they walk out your door. So when they're paying their bill, let them know that if they book their next appointment right now, they'll receive a certain percentage or dollar amount off their next service. You could also mix it up and offer discounts for people who book their next appointment within, say, six weeks as opposed to eight (or whatever time frame makes sense for the service: hair, nails, waxing, etc).
Of course, you'll want to make sure you always have cool beauty and spa promotional items to hand out to clients.
Think laser flip-top mirrors.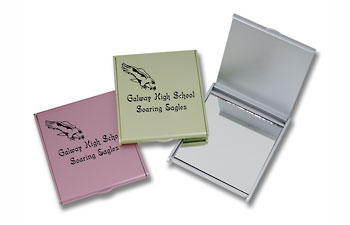 Or emery boards.
Or any other number of personal care products (at Amsterdam Printing, we have plenty). These items are perfect because people use them regularly, and they're easy to slip into a purse or briefcase.
Do you own a salon or spa? What creative ways do you promote your business? Share in the comments.