It might only be the first week in October, but smart business owners think ahead, right? And let's face it: 2013 will be here before we know it. Now's the time to think about what types of pocket calendars you'd like to order for the new year.
But before we get into some of our recommendations, let's discuss several ways you can use custom calendars to promote your business.
1. End-of-year gifts for customers and hot prospects. Order now and you'll have these in plenty of time to include them with end-of-year greetings to customers. You can also use them between now and December 31 as great leave-behinds when you meet with prospects or networking contacts. Calendars stand a great chance of landing a place of honor on a person's desk in the office – trust us! Bonus: at Amsterdam Printing, we offer elegant pocket calendar gift boxes as well.
2. Stocking stuffers for employees. Yes, you should give your employees custom calendars of their own, but consider giving them a bundle that they can use as stocking stuffers for their own family and friends.
3. Trade show season. January and February are big trade show months, and you'd be surprised at how many people still need a simple, current pocket calendar. Order the calendars now for customers and prospects (as we described above), but take any "leftovers" with you to trade shows in January and February.
As for what type of pocket calendar to get, here are some recommendations, but please know that we have dozens and dozens of options. At Amsterdam Printing, we're all about providing custom calendars that fit your business's specific needs.
Fusion weekly or monthly pocket calendar. These are not your grandma's pocket calendars: sharp-looking and functional with plenty of room for your imprint, these calendars come with the option of weekly or monthly inserts.
Industry-specific pocket calendars. We have industry-specific calendars available, like this dental planner pocket calendar pictured below. We also have perfect calendars for spas/beauty salons, religious organizations, and more.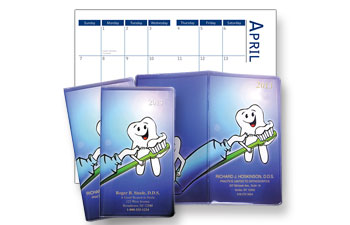 Patriotic calendars. You can't go wrong with showing your pride in America. These patriotic calendars are always a huge hit.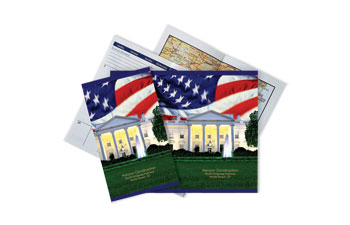 Be sure to check out our complete line of custom calendars. Do you need help in selecting the right one for your business? We have a fabulous team of customer satisfaction specialists – just reach out and ask for help.