Ah, the warm prospect. She's shown interest in your product or services, but now what to do – how do you convert her to a full-paying customer and how long will it take?
A 2009 study from Marketing Sherpa shows a lengthy journey on the b2b sales path from lead to customer. Forty-four percent of the 1000 b2b marketers surveyed said the conversion process took over six months. That can seem like forever in the instant gratification lifestyle in which so many of us live.
So what can you do to make sure you get these leads to convert (and perhaps a little faster than six months)? Let's talk four strategies.
1. Nurture them. Lead nurturing is a way of staying in front of your prospects. In essence, you're simply reminding the lead that you're still there. The goal is to stay on the person's radar. How do you nurture leads? While most lead nurturing programs you hear about revolve around email, it's important to keep in mind that one size doesn't fit all. You need to figure out what works for your leads. Are you marketing to the under 25 demographic? Sending a text message once a month with a special offer might be a smart strategy. Are you focusing on baby boomers? Email, Facebook, or even an old fashioned letter might be best. Perhaps a combo approach would work for your leads: email, snail mail, email. Like any other marketing initiative you take, it's important to measure results, refine strategies based on the results, and test again until you have a formula that works. (BONUS: Read this detailed post we wrote on setting up an email lead nurturing program.)
2. Talk to them. Because we live in a hi-tech it's-all-about-texts-emails-and-social-media age, it's easy to forget the power of the human voice and a simple phone call. Persistent, yet polite "check-in" calls can be a good way to touch base with your prospect. What's nice about it is that it's a two-way conversation. When you send an email, text, or tweet, it's one-way communication, unless the person decides to respond. When you're having a phone conversation with someone, they have to respond, even if it's just to say, "No, thanks."(And a good sales person will see the "no" as an opportunity to learn more about what the prospect's needs are and if those needs have changed.)
3. Get creative. If there's one thing that's true in sales and marketing today, it's this: there are no "rules" anymore (if there ever really were). So allow yourse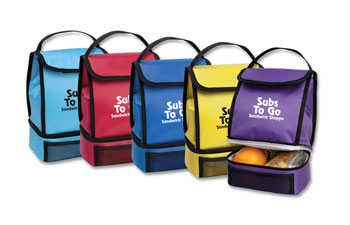 lf to get creative and to really think outside the proverbial box.
For example, an IT company might send custom USB drives to its warm prospects with some useful information contained on a file, like a white paper on privacy issues. A corporate caterer might send a bunch of promotional lunch sacks filled with yummy food as part of a "lunch on us" promotion to warm prospects. You get the idea. In some ways, you're essentially "wooing" the prospect. Make it about them. Think about what their needs are, what information they seek, and then brainstorm creative ways to give them that info. Here are more fun promotional products to consider and to help get those creative juices flowing.
4. Don't forget to ask for the sale. There's something to be said for simply offering no-strings attached gifts or information (without any sales pitch). But at some point, you need to remind warm prospects what you want them to do: convert into a sale. So don't forget to occasionally ask for just that.
What strategies have you used to turn warm prospects into paying customers? We're interested in hearing your ideas. Share in the comments.