OK, so most of us are probably still thinking candy, pumpkins, and costume parties, rather than visions of sugar plum fairies dancing in our heads, but let's face it — the man in the red suit will be here before we know it. So why not diminish some of the inevitable stress that accompanies the holiday season and order your employee Christmas gifts now?
Here are three favorites that are always crowd pleasers.
1. Custom tea set. The gorgeous leather case is filled with three different flavors of delicious tea. Best of all? The gift recipient can continue using the case for storage long after the tea is gone.
2. Custom steak knife set. This gift is sure to impress the culinary wizards who love to entertain around the holidays and beyond. Made from safe, FDA-compliant material, users will appreciate the stainless steel blades with triple-riveted Rosewood handles.
3. High-end personalized pen. Nothing says elegance like a custom pen with a super smooth chrome finish. And the fact it's ergonomically designed is an added bonus.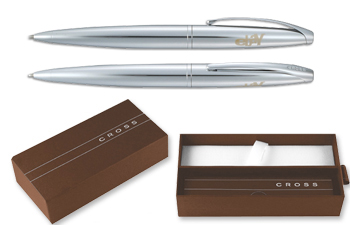 Of course, all this talk about Christmas has probably got you thinking about office holiday parties. Don't worry — we have you covered with these eight festive holiday party ideas and games.
What's the best present you ever received from an employer? (Or the worst — we won't tell!) Share in the comments.