Could someone please tell us how it got to be the last week of July already? We wouldn't be surprised if stores like Walmart had Christmas trees up in two weeks (OK, we jest, but only slightly).
While we were sitting around the Amsterdam Printing campfire thinking up new blog topics to inspire savvy business folks like you, we realized there's a holiday on the calendar that not many businesses build promotions around: Labor Day. And we think it's a lost opportunity, one you can capitalize on.
So here's a quick, cost-effective recipe for a cool Labor Day promotion that you can put together now and have ready to go before the calendar flips to September.
Ingredients:
10-20 of your best customers – names, addresses
Teas, hot chocolate packets, Starbucks instant coffee – get a variety
Company letterhead or postcards
Tissue paper, packaging confetti
Mailing labels/packaging – optional*
Directions
Create a list of your 10-20 best customers, including full names and mailing addresses. (If you decide to mail these packages, create the list in an Excel spreadsheet for an easy mail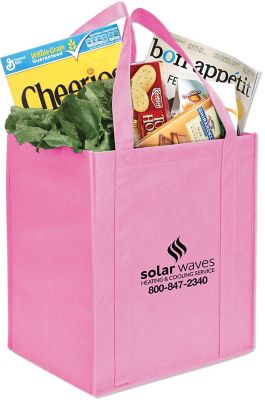 merge.)
Order one tote bag and two coffee mugs per customer (so if you have 10 customers on the list, you'd need 10 tote bags and 20 mugs). Personalize them with your company name and logo.
Buy goodies from your local grocery store, like an assortment of teas, hot chocolate, and instant coffee.
On your company letterhead/postcard, print this message: "It's almost Labor Day, but that doesn't mean you have to labor alone! Remember, we can help you with…" Then add a bulleted list of your key services. Finish the note with this verbiage: "For those long days of labor ahead, here's a little something to help take the edge off. Enjoy!" Make sure you include a business card or two, and make sure your company letterhead has complete, up-to-date info. If you have any other marketing materials, like a brochure, tuck a couple inside the tote bag.
Fill the coffee mugs with your goodies, wrap them up in the tissue paper, place them in the tote bags, and fill with the packaging confetti.
If time allows, hand deliver them to your clients/customers. If that's not possible, print out your mailing labels, package up these promotional tote bags, and mail them the old-fashioned way. Easy peasy!
Have you ever done a Labor Day promotion (or a promotion for some other overlooked holiday)? What did you do and how'd it go? Share in the comments!