Gift baskets are always popular during the holidays, but we wanted to share some innovative ways to use them year-round to grow your business.
1. Turbocharge Your Thank-You Notes. Sending a thank-you note is always good etiquette, especially when you meet with a prospective client. But what should you do for that prospect you're especially interested in wooing? Why not turbocharge your thank-you note by sending along a promotional basket as well? The prospect will remember your kindness, which will help them look kindly on you and your company.
2. Re-Engage Customers You Haven't Heard From in a While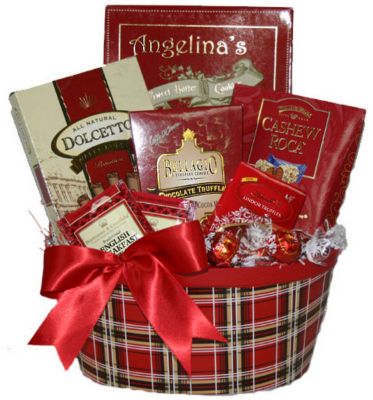 . Send a "we miss you" basket filled with lots of yummy goodies and a note telling the person how much you've appreciated his/her business in the past, you hope all is well, and you hope to see the person soon. If appropriate, include a coupon or incentive to get them back in the door.
3. Offer Gift Baskets as Donations. Whether you keep some on hand or you make easy repeat orders through vendors like Amsterdam Printing, customized gift baskets make a great donation for silent auctions, charity galas, raffles, and more.
4. Use Them to Encourage Referral Business. So let's say your new client just ordered one of your premier products/services. Send the customer a gift basket as a thank you AND include information about your referral program, if you have one. If you don't have a formal referral program, simply include a couple of "hand these out to friends and family" postcards/brochures. If you want to create a formal referral program, you can read how to set one up here (you'll simply be using a gift basket instead of a tote bag).
5. Say Hello to Direct Mail 2.0. Direct mail is not a dead strategy, despite so many businesses flocking to inbound marketing. When done right (meaning with an extra dose of creativity), direct mail can be extremely effective. The key is you need your message and your target audience to be extremely targeted, especially if you're going to use gift baskets as part of the strategy. Here's what you can do:
Create a list of 20 prospects (tops) and do a 2-3 "touch" mailing. The first "touch" might be a simple postcard with a pithy, compelling message that wets people's appetites (and gets them curious). The second "touch" might be a little more in depth (like a letter with a brochure). The third and final mailing will be your gift basket. The goal would be to fill it with items that are relevant to your business and the message you're delivering.
So, for example, let's say you own a limousine company and you're trying to land more corporate accounts. You've identified 10 companies in the area that you'd like an "in" with, and you've identified the person in charge of handling corporate travel. Your first mailing might be a postcard with an image of a frenzied looking businessperson being splashed by a puddle as he/she tries to hail a cab.
The headline might read, "Drowning in corporate travel despair? We've got the solution. Stay tuned…" on the back, you'd include your logo and website URL. That's it. Keep it simple and short.
The second mailing would include a sales letter and brochure on your company's new corporate travel service.
The final mailing would be the gift basket and the request to have a meeting. This is where you get creative. In the gift basket, you'd fill it with things that suggest relaxation, comfort, luxury, and being on time (candles, bath beads, teas, gourmet chocolates—you get the idea). You'd enclose a note saying that Awesome Limo Company provides relaxing, luxurious business travel and that you'd love to set up a time to connect to talk further about what Awesome Limo can do.
We'd recommend doing some follow up telemarketing calls as well. People WILL remember this campaign, and they'll likely be willing to take the call and talk for a little bit.
Do you use promotional gift baskets as part of your marketing mix? We want to hear about it! Share your strategies in the comments.