What to Keep in Mind When Selecting Trade Show Promotional Products
Your trade show bling needs to be GOOD in order to attract traffic to your booth. Here's what to keep in mind when selecting promotional products for your trade show takeaways.
1. Think easy to carry. At trade shows, people are on the go, often visiting dozens of booths in one fell swoop. People don't need to be weighed down any more than they already are, which is why you should consider trade show giveaways that are easy to carry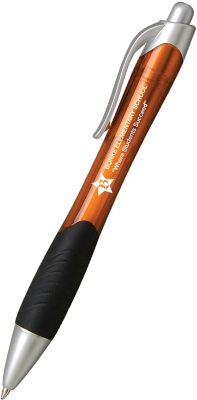 (like promotional pens) or that attach themselves onto bags and key rings (like mini flashlights or carabiners).
2. Think functional. You don't want to give away something cheap that people will toss in the trash in a day or two. Instead, consider items that are useful and durable, like stainless steel water bottles, customized calculators, and snack packs complete with your company logo.
3. Think relevance. Your message will be that much more effective if you can create a connection between what your company does and the promotional product you're giving away. So if you're a banker attending Chamber of Commerce business expo, you might want to give away promotional ATM card holders. Or if you own a pest control company, you might want to give out giant fly swatters.
4. But think outside of the proverbial box, too. On the flip side, there's something to be said about offering a promotional item that doesn't seem to have a direct connection to your business at first blush. For example, if you're a financial advisor who chooses to give away carabiners, you might say this as you hand them out: "If your financial portfolio were this carabiner, would you trust it to hold your weight if you were dangling from a cliff?" This could lead to a further conversation, or it might help people remember you as they go through all their trade show loot a few days later.
5. Think one big thing. A great way to engage with people is by having one big thing (like an iPad) to raffle away. Have people fill out entries, but give them something to take with them (like a pen or key chain). Let them know you'll send an email announcing the winner. This allows you to engage with people AFTER the trade show is over (but you should respect their email address and only send ONE email; you can't add them to your newsletter list or any other list without their explicit permission).
6. Think hi-tech. You want people to remember you and your company long after the trade show is over. Give them reasons to seek you out again. Perhaps you're an accountant who gives away a moneybags stress ball. In addition to your company name, maybe you also imprint a QR code, one that leads to a landing page that you keep up-to-date with helpful small business accounting tips, articles, etc. (We'll be talking more about QR codes later this month in our predictions for 2014.) If QR codes feel too "out there," simply imprint a custom URL for people who use your promotional product.
Have you attended any trade shows recently? What sort of bling did you give away? What sort of promotional products did you receive? Share in the comments.