Some things just go together, right? Like peanut butter and jelly. Tarzan and Jane. Burgers and fries.
Well, at Amsterdam Printing, we also have a perfect pairing: our custom stylus pens.

This is one of our HOTTEST promotional items, and for good reasons:
You get two awesome products for the price of one.
You can use our stylus pens on smartphones, tablets, and all touchscreen devices.
You can customize them! Add your company name and logo, and choose from lots of cool colors and designs.
You can't go wrong when you hand these out to customer, prospects, and employees, because just about everyone owns a smartphone and/or tablet these days (or they will  soon).
Check out some of our favorite promotional stylus pens below.
1. Entice Stylus Pen. The name says it all. The look and feel of this stylus pen beckons you to pick it up and use it. It's earned 4.9 stars (out of five) from our customers. You'll love the large imprint area where we'll laser engrave your company name and logo. The Comfort-Inlay™ grip makes it a pleasure to hold. Truly.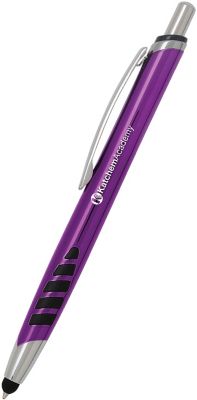 2. Marcello Stylus Pen. We're wondering what you'll love more: the ergonomic barrel and grip designed with your comfort in mind, or the fact the stylus is on the opposite end of the barrel, making for easy navigation on touch screen devices. The polished silver barrel is especially eye-catching, which is a good thing since this is where we'll imprint your custom message and logo. This stylus pen has garnered 4.5 stars.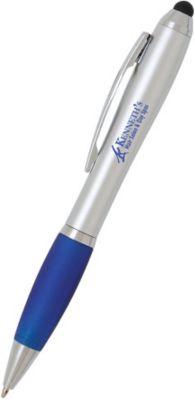 3. Impact Stylus Pen. One happy customer had this to say, "I purchased this stylus pen as a client promo gift. After receiving many compliments on the pen, how it writes, and the stylus I decided to re-order. It is a great pen with dual uses and promotes my firm just the way I want to." What more can we say? How about this: you're going to love the smooth, shiny barrel with textured chrome accents. And this twist action pen comes in blue or black ink.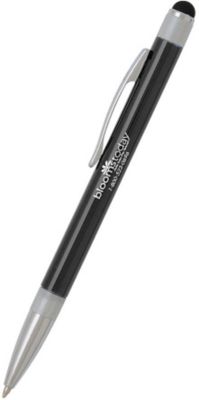 4. Résumé Stylus Pen. This 5-star stylus has a comfortable rubber grip and silver accents, which give it a sophisticated flair. You can rest easy since this pen's retractable action means the ink won't get everywhere, like on you, your clothes, or your work. There's plenty of room for your company name and logo AND it has a go-anywhere clip to boot.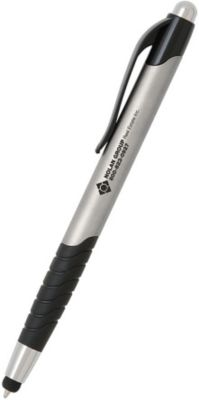 5. BRAND NEW: Vilano Stylus Pen. We're thrilled to welcome this sassy stylus to the Amsterdam family. We fell in love with its versatility, its twist action with blue or black ink, its grip available in five fun colors, and its shapely contoured barrel and gleaming chrome. And, yes, there's plenty of space for your custom message.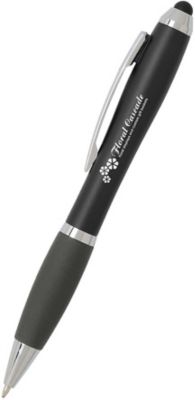 6. Inno-Tech Stylus Pen. Two-in-one tasks like writing and touch screen navigation have never been so much fun, thanks to this multi-tasker stylus pen. The Twin Comfort-Rib™ grip makes it easy to hold onto, even for long periods, and the sand-washed metal barrel looks incredibly sleek. To add to the sleekness, we'll laser engrave your company name and logo in silver. This is an Amsterdam exclusive—you won't find it anywhere else!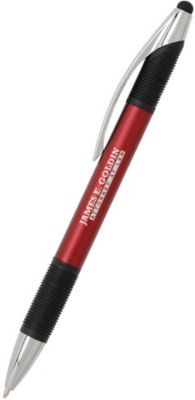 Click here to see our entire selection of fabulous stylus pens.
Which one is your favorite? Share in the comments!