It's never too early to start thinking about holiday gifts for clients. Order now and avoid the last-minute rush. Read on if you need some ideas, you've come to the right place: here are our top picks for 2014. Or browse our entire holiday gifts category now!
Elegant Pen Gift Sets
Pen gift sets make an ideal holiday present because they're more substantial than "just a pen" (not that there's anything wrong with giving out solo pens throughout the rest of the year!). These gift sets includes two items delivered in a gorgeous presentation. A couple of our favorites are below.
Delane Pen and Pencil Gift Set. Writing instruments never looked so good! We don't know which feature we like more: the eye catching high shine barrel or the stunning engraved imprint. Choose from a lovely selection of colors and be prepared to WOW recipients.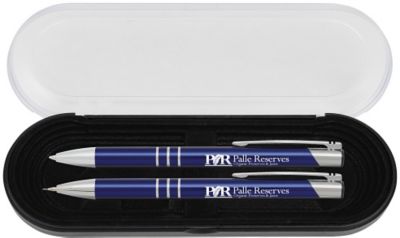 Entice Stylus/Litewell Gift Set. The name says it all, doesn't it? This gift set is SO enticing because it serves up an unexpected, but useful combo: a stylus and a flashlight keychain. Both items have plenty of room for your custom imprint, doubling the chances your recipient will see your company name on a regular basis.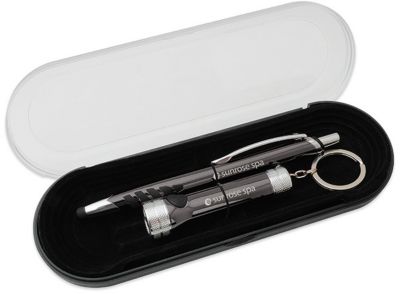 Stylish Drinkware
Promotional drinkware options are seemingly endless so you can mix and match the best type of glasses, cups, mugs, and more to your business and audience. Here are two awesome options to consider:
Full Color Digital Ceramic Mug. Choose from our exclusive designs or upload your own—it's up to you! This promotional item is one of our most popular since it's fun, useful, BPA FREE, and top-shelf dishwasher safe.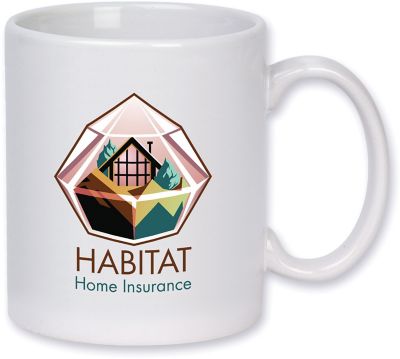 Hilo Bistro Mug Matte Finish 16 oz. Sleek and stylish, these bistro mugs have a modern flair, thanks to their cool shape and colorful interiors. What's even more cool? You can order in assorted colors within a low minimum quantity of only 36 bistro mugs! One happy customer summed up his experience succinctly: "Great quality product. Fast turn around and delivery. Great Job! Would purchase again."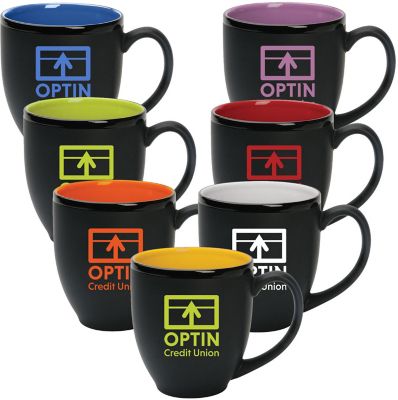 Must-Have Padfolios
Padfolios make an excellent gift since they're highly functional. Everyone needs certain business essentials at the ready, like a pad of paper, pen, and business card, right? The padfolio organizes these items and keeps them all together without spilling out. Two popular choices are below.
Avalon Padfolio. Avalon is a trusted name that provides the highest quality products, and its line of padfolios is evidence of this fact. The leather-like exterior boasts the popular Avalon design. Inside, you'll find organizational pockets and a handy pen holder. Plus, we'll screen print your logo and company name in silver or gold for added panache.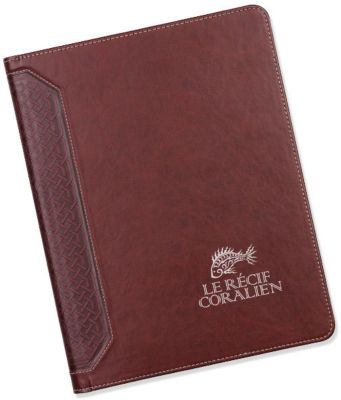 Delegate E-Padfolio. Sometimes you need more than a typical padfolio. You need a souped-up version, one that goes the extra mile. That's exactly what the Delegate E-Padfolio does. In addition to the traditional items it holds, like pads of paper, it also has a scratch-resistant sleeve (with Velcro) for your e-reader or tablet, a smartphone mesh pocket and pen loop, a USB drive holder, and a zippered enclosure, which keeps everything safe. And, yes, there's plenty of room for your stylish custom imprint as well.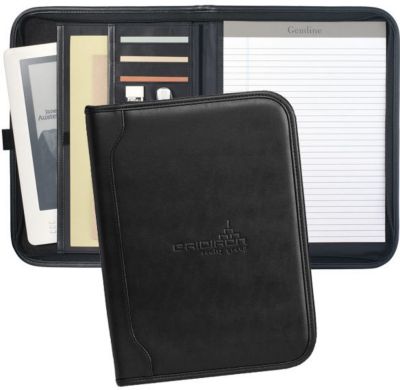 Yummy Food Treats for Gift Giving
When is free food NOT a crowd pleaser? These gifts are tasty, thoughtful, and did we mention tasty? Here are two delicious selections to consider.
Dark Chocolate Sea Salt Caramels . Need a holiday sweet treat gift in a hurry? No problem! Make it easy for your business to stand out. These dark chocolate sea salt caramels are beautifully arranged in an elegant presentation box. All you do is enter your holiday message (for no extra charge) to personalize the enclosed gift card at the time you place your order. When your order arrives, they are ready to hand out! Oh, and don't forget to order an extra box for yourself —we won't tell. :)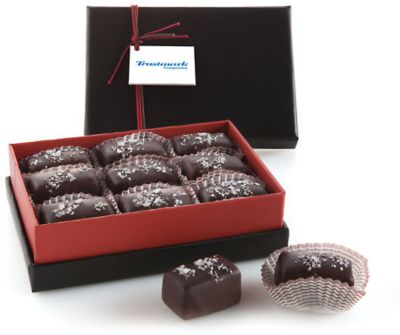 Belgian Chocolate Embossed Coins. There's something quite festive about a bag filled with colorfully wrapped coins, especially when said coins are edible! Choose from milk, dark, or dark mint Belgian chocolate. One customer wrote in to tell us, "The service from your company continues to be excellent. These coins were purchased as a giveaway item for advertising purposes. We never expected to hear how delicious the chocolate was. We got so many positive comments I had to try it for myself. It is delicious!!"
Terrifically Techie
Since you can't give a flying car or tickets to next year's Comic-Con, choose from one of these selections for your techie clients (these also work well if you represent a tech company!).
Power Bank and Car Charger Packaged  Gift Set. Who couldn't use an extra set of chargers? The awesome presentation of this gift set is sure to impress. And every time this puppy rescues someone yet again, it will be YOUR company name that he sees—and praises. Score!

Deluxe Tablet Stand. Now you and your tablet can look GOOD! With your choice of four trending colors, this multi-purpose three position stand can accommodate just about any e-reader tablet device. (Only exceptions are the Kindle DX or Galaxy Tab 10.1).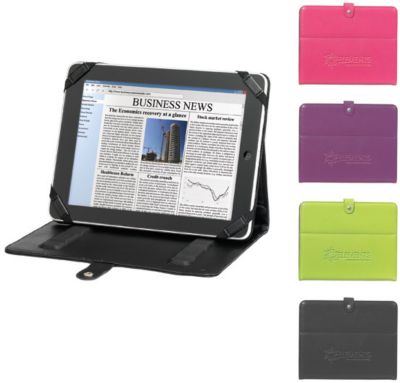 Gifts for Tight Budgets
While it's great if you can go all-out for holiday gift giving, sometimes our budgets end up playing Scrooge. Never fear! Here are two low-cost items that will still bring a smile to a customer's face.
Boardroom Promo Penlight. One happy customer sums up this product best: "I've beem am Amsterdam customer for years. When I received the Boardroom Silver Stylus Penlight sample I Immediately knew what to do. My order was for it in Green and Red and these will be Christmas gifts, as a set , to not only my business contacts but also to the students themselves. They won't last long and I'm sure I will have to reorder. The product is superior, and the service, well…….better than that ! ! ! "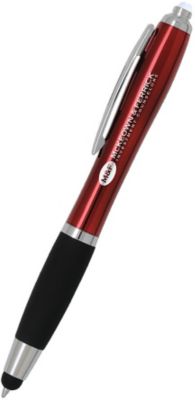 Gizmo 3-in-1 Keychain. It's a keychain, bottle opener, and flashlight wrapped into one cool product that people are sure to love—and use—which means there will be plenty of opportunities for them to see your company name.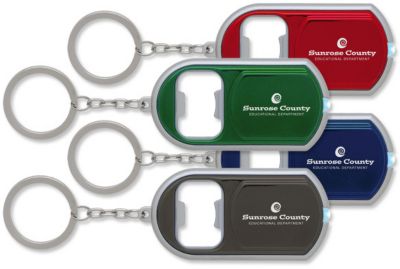 Tasteful Gift Packaging Available As Well
By the way, we can help you with the presentation of your gifts, either the ones above or for something entirely different. Here are some popular gift packaging options that you might need for the month of December…and beyond:
Metallic Bottle Gift Bag. Because nothing says "happy holidays" like an elegant bag holding a bottle of wine for celebrating!

Metallic Tote Bag. This is perfect for bigger gifts. Or you could fill this tote with a bunch of smaller wrapped items. Imagine the fun your customers will have as they discover all the treasures inside.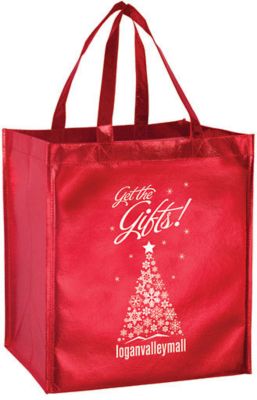 Here's hoping we helped you (and Santa) with some big decision making for this holiday season. Which one's will you check out? Which ones are your favorite? Want to see even more choices for holiday promotional gifts for your clients? View the entire Holiday Gifts category.