Make your office Christmas party the event of the year with these merrymaking ideas
It's beginning to look a lot like Christmas, and it's never too early to start gathering office holiday party ideas. Here are a few easy tips to get you started:
1. Invite early. Between holiday travel, family get-togethers, and other events, people's schedules tend to fill up quickly this time of year, so get your invitations out early. Give invitees a taste of what you have planned, including office holiday party games, gift exchanges, or special menu items.
2. Give door prizes. Give each person a numbered ticket as they arrive and do drawings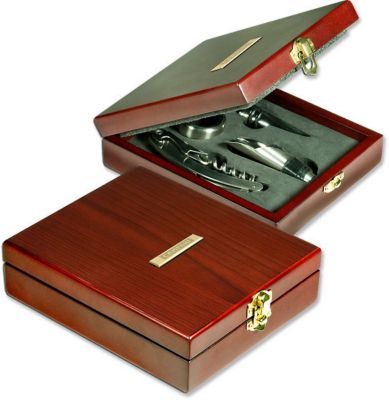 for door prizes throughout the party. These can include elegant keepsakes like a rosewood wine set featuring your company logo
or creative ideas like a special parking spot for a month, a free half-day off, a "jeans day" at the office, or a donation to the charity of the winner's choice. 
3. Have a Santa. Nothing livens up an office Christmas party like a jolly Santa Claus! Have one of your team members don the red suit and hand out candy and presents with a hearty "Ho, ho, ho!"
4. Plan table prizes. If you're planning a sit-down lunch, pick one chair at each table and place a colored sticker on the underside. The person sitting in the marked chair gets to take home the table centerpiece or some other fun prize.
5. Play "Name That Song." Play a snippet of a holiday song and have your guests guess the title; the first one to guess correctly wins a prize.
6. Have a cookie swap. Encourage guests to bring their favorite holiday goodies to the party.  Everyone can share recipes and take home samples of the special treats.  Guests can even get creative with custom printed recipe cards and gift bags.
7. Have a gift exchange ("yankee swap"). Ask each to guest bring a wacky gift—the more outrageous, the better—and pile all the gifts under the tree. Assign each guest a number. The first person picks a gift from under the tree and opens it; the second person can either "steal" the first gift or open a new one. Continue until all the gifts are gone (each gift can only be "stolen" twice), and each guest will have a zany souvenir of your office holiday party!
8. Give party favors. Thank your guests for coming to your office Christmas party with a box of dark chocolate sea salt caramels with a special message on the card. For more economical gifts to share with a crowd, consider personalized mint tins or ceramic mugs imprinted with a holiday design.
Have any office holiday party ideas of your own to add to the list? Share them in the comments below!   And Shop All Holiday Business Gifts Now!