The handwritten note: it's almost become a lost art, hasn't it? It's time to revive this practice. Here's why.

1. A handwritten note will stand out. Think about it: when's the last time you received a handwritten note from a business owner? Thank-you emails are common, but handwritten notes are special. People will remember your note (and possibly even save it).
2. A handwritten note comes across as more sincere and heartfelt. It's easy to tap out an email or text and hit send, but when you hand write a note, your brain slows down a little bit, giving you more time to think through what you're trying to say. The result tends to be a more sincere and heartfelt message. Just think about all the people who used to woo with romantic letters back in the day. You don't hear about people wooing with emails or texts, right?
3. A handwritten note allows you to get truly personal. Sure, websites and email programs are sophisticated enough to address people by their first name. Marketers refer to this as "personalization." But a handwritten note allows you to get personal in a way that automated software can't. With a handwritten note, you can greet a person by name and reference something unique to that individual.
4. A handwritten note conveys your commitment to small details. In a world that has become more and more casual, a handwritten note shows that the small things—like good manners—still matter. That's certainly a strong message. The person receiving the note might think, "Wow, if the business owner puts this level of thought into a note, I can only imagine the level of detail that goes into her products/services."
Getting in the Habit of Sending Handwritten Notes
The best way for you and your employees to get in the habit of sending handwritten notes is to make sure everyone has all the necessary "tools" within arm's reach. That way, people can write and address a note all in one sitting.
Whether you opt to send your message on company letterhead or something else (like parchment paper), make sure you have plenty of it, envelopes, and stamps. And, of course, the right writing instruments can make all the difference.
Consider investing in some high quality custom pens and handing them out to employees, especially those who regularly interact with customers and prospects.
Here are three of our favorite custom pen gift sets.
1. Delane Engraved Pen Set. This is one of our best-selling items, and no wonder. The eye-catching high shine barrels give this pen and pencil set an elegant feel. There's plenty of room for your imprint, and we present both items in beautiful packaging. One happy customer wrote, "The pen and pencil set were just what we were looking for as a token of our appreciation to employees and clients. The set is well done and looks very nice and looks more expensive than the cost would make you believe. Service was excellent."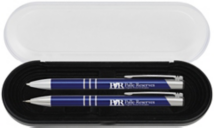 2. Entice Stylus Litewell Gift Set. Get four useful promotional products all in one gorgeous package: pen, stylus, flashlight, and key chain. You have plenty of imprint options as well, which means even more opportunities for people to see your name and logo. A satisfied customer stated, "The stylus and flashlight were a great combination for a product giveaway for my utility."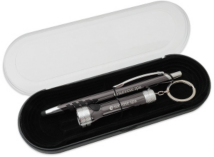 3. Nouveau Weekly/Delane Comfort Set. Our best-selling calendar and pen meet in one spectacular package. The pen features our Comfort Inlay™ Grip, which makes for a smooth and comfortable writing experience. The calendar boasts a durable leather-like cover with unique scroll design. Put your imprint on both, and you're ready to go. This is an Amsterdam Printing exclusive, which means you won't be able to find it anywhere else.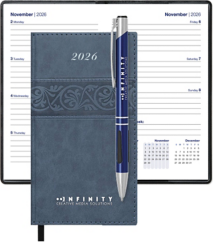 Do you ever send handwritten notes to customers or prospects? Share your experiences in the comments.